So James leaves today for 4 months. He is going down to Salem for academy. He will be able to come home on the weekends but for the rest of the week I will be home with Zane by myself which is going to be so very strange! I can't believe that it is already time for him to leave. It sucks but I know I can do it.
While James is gone though I am going to do the 21-day Organization challenge that
A Bowl Full of Lemons
has done one her blog.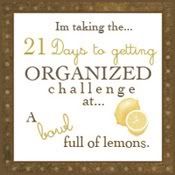 I'm also going to be doing her weekly challenge.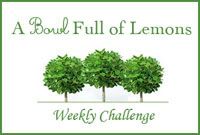 It is going to feel so good to get organized and have James come home to it organized and clean! It's going to be a lot of work but I can do it and it's going to be so nice once it's done. I'm actually very excited about doing the challenge. I'll post pictures as I go through each challenge and show you my progress. We'll see how it all turns out in the end.